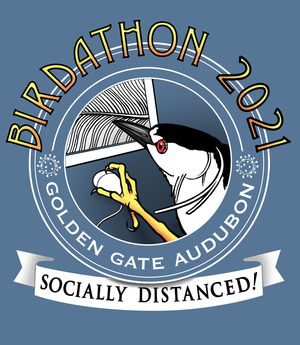 Covid can't stop us! Golden Gate Audubon Society has adapted our annual
Birdathon
fundraiser to provide great springtime birding experiences while keeping everyone healthy. Starting in late March and running through early May, enjoy three innovative kinds of programs:
Virtual Field Trips. Your favorite GGAS trip leaders will take you via Zoom to top birding hotspots. Join Bruce Mast to watch Greater Sage-Grouse courting on their lek in Lassen County… Bob Lewis to venture beyond the normally-locked gates of Hayward Regional Shoreline… Rusty Scalf to learn about the condors and geology of Pinnacles National Park… and more. (See list below.)
Christmas-in-May Bird Count. Join a socially-distanced count in either Oakland or San Francisco on Saturday May 8th, coinciding with eBird's Global Big Day! See what your favorite Christmas Bird Count sites are like during spring migration and nesting season, while contributing to community science. You also have the option of raising funds for GGAS by getting friends to sponsor your count area team.
​Online Adventure Auction. Starting on May 1st, bid online for real-world adventures once health guidelines permit, including vacation stays at Tahoe, Stinson Beach, and Portland, a private plane flight over Bay Area habitat restoration sites, private botany walk with a native plant expert, chocolate tasting party, and more.
---
Virtual Field Trips of Birdathon 2021
The Sage Trifecta in Lassen County – March 24 – with Bruce Mast
Birding California's Big Sink (Salton Sea) – March 28 – with Eddie Bartley and Noreen Weeden
The Farallones, Minus the Seasickness – March 31 – with Alvaro Jaramillo
Raptors of Skaggs Island – April 3 – with Anne Ardillo and George Eade
Treasures of Mines Road – April 7 – with Steve Lombardi
Puzzling Pairs and Dazzling Doppelgangers: An ID Workshop – April 9 – with Oliver James and Adrian Hinkle
Behind the Gate at Hayward Marsh – April 11 – with Bob Lewis
Condors of Pinnacles National Park – April 13 – with Rusty Scalf and Richard Neidhardt
Finding Rarities in the East Bay – April 21 – with Alex Henry
The Magic of Mitchell Canyon – April 27 – with Maureen Lahiff

The Virtual Field Trips are a great way to plan a visit on your own to these sites. Or in some cases, like the Hayward Marsh and Skaggs Island trips, they're a way to see restricted-access sites that you can't visit on your own.
All Virtual Field Trips start at 7 p.m. and cost $15. Sign up now and invite your friends!
Birdathon is Golden Gate Audubon's main fundraiser of the year. Next year we hope to resume our usual array of unique in-person trips and behind-the-scene tours.